We spoke to Katie Williams, the woman behind the world's first Coffin Club. While it was spawned in Katie's native New Zealand,  the social club for older people who want to build their own coffin has quickly expanded throughout the country and the globe. With a feature-length "musical documentary" being made featuring all the "oldies", the film's tagline reads: "A group of rebellious, creative Kiwi seniors gives death the finger, one crazy coffin at a time." We wanted to know more about giving death the finger.
Could you tell us how you first told your friends about your ideas for the Coffin Club?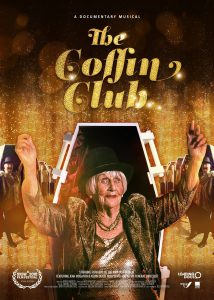 When I first explained my idea to friends, some of the blokes raised their eyebrows on the way out.  Nevertheless, they all came to the next meeting in my garage and carport. Tools were talked about and the making of templates along with plans needed for the construction of coffins. All the practical stuff was thought through first. In the end, most found the idea appealing and found the creativity exciting.
People came for various reasons, and most found the idea appealing and found the creativity exciting. No one spoke about expense for professional services, but I'm sure it crossed their minds.  It was an incredible social time and many found the friendships they made very valuable.
Did you imagine that your idea for the Coffin Club would become so popular?
The whole concept has taken on a life of its own, and progressed to areas that were never considered. This progress has come about due to the interaction of all people involved, the club committee, people who come to make the coffins, members, and visitors. I believe it has made people think out of the box and, for many, their concepts of death and dying are so different from before the coffin club.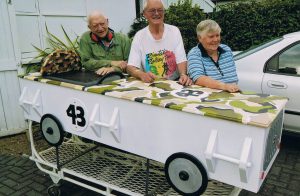 Death and dying needs to be more personal and owned by the person, and this is starting to happen. There's a feeling of keeping in control of one's going-away. People are thinking more about death and dying, whether it's an acceptance of the inevitable, the impact on their loved ones, or even the costs involved.
Do you have any tips for anyone out there that wants to start their own Coffin Club?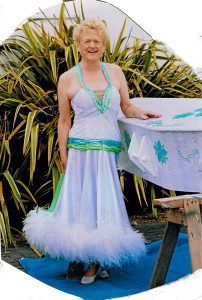 Anyone or any group can start a Coffin Club. There are legal rules and these differ from area to area and country to country – there are cultural needs that have to be addressed and respected.
The groundwork is very important. There are many Clubs that are in existence that function in a different way (their way) which is all good.
For the coffins themselves, MDF board is currently the main material used to make the coffin because it is cheap and practical. Untreated pine is a more eco-friendly option but is more expensive. Handles can be made at the club, or sourced from a local builder. Rope handles are also very popular.
What kind of person is the Coffin Club for? Might age and ageing be the common factor, or anyone living with death and dying lurking nearby?
The membership is made up of mainly people over 65. That doesn't mean that young ones aren't among us. We have children and grandchildren quite often coming to help with the decorations.

We think that it is important that the young family members come and help them to normalise the fact that people die. Some younger people come to make coffins for their terminally ill parents or grandparents. We have opened up the workshop to a family when a death has occurred, often in a sad way, and they all come in and decorate.  There is lots of crying, laughing, love and sadness around but it has been very therapeutic as all ages are involved.
What do people appreciate most from taking part in a Coffin Club?
The members enjoy the social part of the Club. In fact it may be the most important part.  It gives them the opportunity to voice concerns, get advice, tell stories and mingle in a free, open way.  They appreciate that there are many there whose concerns and worries are similar if not worse than their own. It's known as the happiest and most fun Club in Town", and to many who come it's an outing each week that they cherish.
We have had occasions where people have taken a while to come through the door.  When they do it is an experience that they have thought about and an achievement that they have succeeded with.
Where do you see the Coffin Club going in the future? 
The future of the Coffin Club is in the hands of those who can instigate such changes in society and make death and dying into a more celebratory concepts. There are many such change makers around the world. I laud them and wish them well!
Find out more
You can watch a trailer for the Kiwi Coffin Club's musical documentary, and more tips on how to start a coffin club, here