We asked Janine Marriott, the Public Engagement Manager at Arnos Vale Cemetery in Bristol, about why it's important to keep cemeteries open as public places, how to engage children on days out at Arnos Vale, and if there were any unique spots in the cemetery she could tell us about.
We've got many more interviews between DEATH and industry professionals, organisations, artists, and anyone with a perspective on death. Make sure you keep up to date with everything going on at DEATH.io.
How did you get into your job, and why? While Arnos Vale is a beautiful cemetery, it's a cemetery nonetheless…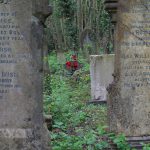 When I began at Arnos Vale it was meant to be 2 years part-time! I was employed to encourage schools to visit the site, and wrote some education resources to help them get the best out of a visit. I'm trained as a primary school teacher with a background in museum education, so I knew how to use a historic site for learning.  
However, I am also a massive fan of visiting cemeteries. As a historian, I love to read the stones and find out about people's lives. I also love cemeteries for their wildlife, and Arnos Vale is a great example of this. At Arnos Vale, we've got bats, badgers, slow worms, grass snakes, butterflies and lots of other things living on site. Cemeteries are little oases of calm and beauty in urban areas.  
Arnos Vale has such a great variety of events – why do you think it's important to keep cemeteries open as public places?
Historic garden cemeteries like Arnos Vale were designed as public places and the Victorians would think nothing of going for a wander in the cemetery. They saw them as arboretums, leisure spaces and educational spaces. Cemeteries are vital green spaces for everyone, so keeping them open is really important. Even though most Victorian cemeteries were originally in the countryside, as our cities have got larger they've encroached on cemeteries, making them part of the lungs of a city.
Cemeteries are also intergenerational. Anyone and everyone can visit, read the stones, have a coffee, take the kids for a wander, walk the dog or go for a jog. We try to provide lots of opportunities to visit Arnos Vale – from our visitor trail, which can be found in our shop, to our amazing events. This week I was listening to comedian Dr Phil Hammond talk about the 70th anniversary of the NHS, but in a few weeks' time I'll be running kids activities for the school holidays. This variation is what keeps our site relevant.
We run a yearly festival called Life, Death and the Rest (the next one will be March 2019) where we give people opportunities to talk and explore issues around death, dying and remembrance. All the events we do have one aim: Arnos Vale for everyone, for ever.
You do a lot of work with schools, why is it important to introduce the cemetery to children as a place to learn from and enjoy?
The cemetery is an amazing space for kids. There's room to explore, find out new things and be outdoors. Hands-on learning is very much part of what we offer here. Kids love to explore the art on the graves, hunt for names, hear the stories of those in Arnos Vale and go for bug hunts. The cemetery is a wild paradise full of learning opportunities.
People are always worried about how kids will react to the concept of death. In my experience, they are just curious not scared. It's a fact of life that we all die and getting used to this concept is actually good for our mental health.  
Arnos Vale has a rich history. Are there any interesting spots we should look out for?
Our most famous grave is the memorial of Raja Ram Mohan Roy – he has a beautiful Grade II* listed chattri on the Ceremonial Way. It's very easy to spot and so unusual. A grave that always make me smile is that of Harry Edwards the train driver, who has a steam train in motion on his grave. This is a little hard to find but it's up by the top gate,  off of Cemetery Road.
The site is also the last resting place of a large number of war dead from the Crimea
onwards. We have three war memorials on site and we remember service personnel through events in November and during our some of our tours.
Our buildings on site are also absolutely beautiful; they all look like Greek temples and can be explored as part of a visit. Our Anglican Chapel has a lovely bell tower on top which looks like another tiny Ancient Greek temple.
Are there any odd cemetery facts or morbid tales you can let us in on?
I love the little tidbits we can share with visitors (we even have a trail available about this called 'Secret Cemetery'). During tours, I love to tell people about the secret tunnel that goes between the two front gate lodges. You'd never know it was there if you hadn't spotted the underground gates.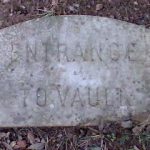 We've got a number of tales that might be considered morbid. One that springs to mind is the unsolved murder of the Odeon cinema Manager Robert Parrington Jackson, who was shot during a film.  It was during a gunshot scene, so no one suspected a thing until the lights came on. This murder is one of the oldest cold cases on the Bristol Police files.
We've got some great tours that have been recently developed that share the darker and more unusual side of the history at Arnos Vale; these are up on our website now.
What kind of events would you like to put on in the future? I was wondering whether public dissections, popular in the 1800s, might be brought back.
I definitely can't imagine us putting on a public dissection but we love to put on events that make people think or bring in new audiences. We've recently partnered with Funzing who bring a range of interesting speakers to our site.  
We'd love to do taxidermy workshops, so if there are any taxidermy teachers out there wanting an amazing space to work in, do contact us. We are always open to new ideas and we already show films, host theatre, hold concerts and talks.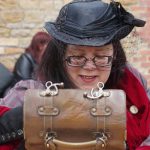 Janine Marriott is the Public Engagement Manager at Arnos Vale Cemetery in Bristol, UK. Her role involves encouraging visitors into the cemetery and providing opportunities to engage with the place, the stories held there and the historic landscape. She began her career in teaching, moved on to museum education and has worked in a range of museums and heritage sites. Janine is now undertaking a part-time Doctorate in Heritage at the University of Hertfordshire, exploring public engagement in sites of memorialisation.