We asked funeral director, blogger and vlogger Peter Abraham a few questions about his job, how he got into the business and what he's learned in the process.
We've got many more interviews between DEATH and industry professionals, organisations, artists, and anyone with a perspective on death. Make sure you keep up to date with everything going on at DEATH.io.
An undertaker's role is often misunderstood. Could you outline a typical day?
There is no real typical day in my line of work. Every day is different, which is what makes it so interesting – no two days are ever the same. But my day starts at 8am when I get to the funeral home, have a cup of tea and a chat in the workshop before the morning briefing by the foreman.
Once that's over, and we all have our instructions for the day, including how many funerals we have on, then we are sent on our way to do what we have to do. The day ends at 5pm and we work Monday through to Friday. As you can appreciate, I work in a profession that is very unpredictable and situations can change on a sixpence, so we have to be able to deal with that.
Growing up and becoming an undertaker isn't on every young person's to-do list. How did you get into this job and why?
I've always wanted to be a funeral director. I was always the weird kid at school that never really fitted in, and who had an interest in the bizarre and odd. When it came to choosing  work experience, a lot of my classmates were opting to work in very mundane places just so they could have an easy week and get together with their mates more easily. I chose to spend my week in a funeral directors. I did it at first just for the shock factor, if I'm honest. When I started looking at it properly, though, I was fascinated.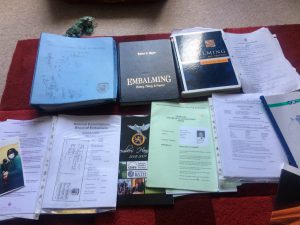 My mum told me of a friend, who had become an embalmer after doing her work experience at a funeral home, and she really enjoyed it. So when I left school that was what I wanted to do. But I couldn't drive, so I wasn't able to get work in the industry immediately. That still didn't stop me though.
I came into some money when my grandmother died and, when I received it at the age of 18, I decided to put myself through mortuary school, where I trained to become an embalmer. Once I could drive, I got my first job in a funeral home as a funeral arranger. I was 20 at the time.
What are some aspects of your job that readers may be most surprised to hear about?
There's a lot that goes into making a funeral happen: paperwork can be a nightmare (especially if the coroner is involved), sometimes clergy need to be contacted, flowers need to ordered, cars cleaned and bodies prepared. A lot of people seem to think that all we do is turn up in a big flashy car, carry in a coffin and go home again. Sometimes, I wish it were that simple.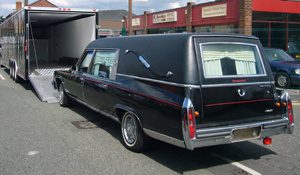 You have to be able to deal with things both physically and mentally. It's a demanding job and one that needs your undivided attention at all times. The embalming process is a very intense thing to go through, both as an embalmer and as a recipient of the process. It's not for the faint hearted and some aspects may horrify some people. The sights you kind of get used to, but the smells you never do.
All of these things happen on tight timescales, especially if a client is demanding or has particular needs that need attending to. There's also being on call – most people can't seem to get their heads around the fact that we go out at all hours to collect the deceased into our care. It's a 24/7 job!
Funeral homes have a reputation for being sombre places. Do you find it hard to keep upbeat?
No, not really, is the honest answer. At the end of the day, funeral homes are just normal working offices with a twist. The twist being that you probably have a dead body next to your office, whereas most other people don't.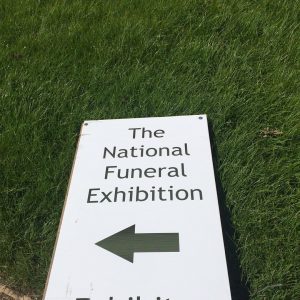 It takes a special kind of person to do this job and work in this environment. If you get upset very easily, then this possibly isn't the job for you. You have to remember death comes in all shapes and sizes and at all ages, with no exceptions. So as a funeral director, you have to be able to deal with that as well as retain a grasp on reality outside of the funeral home. I have never found it a place to be depressing or sad.
Have you learnt anything about death, dying and the grieving process you weren't expecting to?
Without sounding like a smart aleck, I'm going to say no. I've always known that death is a very difficult, upsetting and even taboo subject for most people. I have always known that death is inevitable and that there's no way around it. I entered this profession with my eyes wide open.
But what I have learnt is that life is precious and fragile; it can be incredibly short and it can be taken away in the blink of an eye. I've also learnt that grief is an individual thing – you need to sit back and allow people to grieve in their own way, and in their own time. I have learnt to appreciate everything a little more than I did in the past, and to spend more time with my own family.
What do you think your role will look like in the future?
Well, I think we're always going to need funeral directors because we're always going to need that personal service. Machines do a lot of our jobs these days but, when a death occurs, people look to a real person who can comfort them and guide them through the process. So, in that respect, I don't see my role changing that much.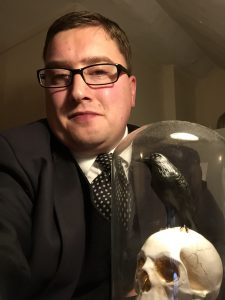 Peter Abraham is an undertaker, blogger and Youtuber originally from Liverpool but based in Bristol and the South West for the past 20 years. He started working in the funeral industry at 19, and currently works for a small family funeral directors as well as writing his blog and managing his Youtube channel, 'Confessions of an Undertaker'. You can read Peter Abraham's blog at www.confessionsofanundertaker.co.uk  or watch his videos on Youtube here.
Find out more
For more funeral talk and planning, head to DEATH.io's Funeral Planning page 
Next week we're interviewing Robert Peacock, creator of Death on the Fringe and the Development Manager for the charity Good Life, Good Death, Good Grief, which is based in Scotland.