Top 5 creepiest places in London
If you initially thought London a great business powerhouse, an international hub and a tourist hotspot, you'd be wrong. It is, in fact, a city overrun with gruesome history and and strange delights. If you're planning a visit to London, make sure to include a few of the creepy places on your itinerary.
1. The Old Operating Theatre

Up and running before the invention of anaesthetic in 1846, London's Old Operating Theatre didn't see many successes in its more, let's say, experimental years. Despite the most benevolent of intentions, sometimes hacking through a patient's chest to meddle with an aortic valve without surgical anaesthetic simply won't end well.
Make sure to visit when the Theatre holds mock dissections – simply grab your Victorian hat, your pince-nez and your sick bucket, and you're good to go get haunted.
Visit the Old Operating Theatre's website here to view what's on. 
2. Epping Forest
With certain areas of the Forest named Hangman's Hill, the Suicide Pool, and That Path Where Dick Turpin Violently Robbed an Innocent Passer-by, you know that Epping Forest is definitely going to make a list of the top 10 haunted spots in London. Yes, it technically is still London.
Epping Forest has seen Roman battles, Norman invaders, Boudicca's Iceni tribe and highwaymen. Yes, even Dick Turpin, notorious murderer and burglar-turned-New Romantic-pinup, made an appearance.
Even if you don't see any ghosts, then you'll probably stumble upon a group of old gravestones. You really will inevitably trip over them: they're gnarled, unkempt and, when it rains, particularly clogged with mud and residue. You might even find you become the next Epping Forest ghost.
3. West Norwood Cemetery Catacombs
If you like being underground, in a cramped space, surrounded by the decomposed remains of victim's of London's cholera outbreak, then you're going to love the West Norwood Cemetery Catacombs.
Rivalling even Paris's catacombs, those in the West Norwood Cemetery are (probably) haunted. Make sure you plan ahead: they're rarely open to the public.
Take a look at what the Friends of West Norwood Cemetery Catacombs have got on.
4. Hunterian Museum
Bottled human foetuses, preserved monkey heads and the tooth of a megatherium (an extinct giant sloth), the Hunterian museum is not exactly haunted, but feels like you've entered a nightmarish imagination.
All specimens used to belong to eccentric surgeon Sir John Hunter, inside the Royal College of Surgeons. If deformity and strange specimens aren't your thing, then you should head here – you'll be spooked.
Take a look at what's going on at the Royal College of Surgeons here. 
5. Liverpool St Station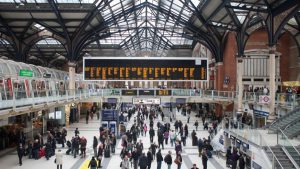 If you've ever had the unfortunate opportunity to find yourself in Liverpool Street Station, you'll know intimately the feeling of wanting to literally be anywhere else. You might say you'd rather have the plague.
Around 30 bodies were found underneath the Station, reported to be a plague pit. You might feel inclined to join them when you're next getting the train.
Find out more
If you just can't get enough the creepy parts of London, then take a look at our article on London's most haunted spots.
Can't get enough of interesting death-related posts? Take a look at our latest article on the rise of robots in healthcare. 
Visit our Digital Death page to think about what will happen to your online life after you die.