From teaching children about death to our day trip to a modern coffin factory, right through to the largest prehistoric Necropolis and the search for a dress made out of dead people's hair, here's the Week in Death. It's an eclectic one.
News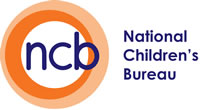 The National Children's Bureau recently published an opinion piece by Childhood Bereavement Network Coordinator Alison Penny on why the government should put death on the school curriculum. The current relationships and sex education (RSE) curriculum is set to be re-jigged, and Alison thinks this is an opportunity to get talking about death in secondary school classrooms.
We think it's an important issue. Young people are curious about death, and with 80% of 11 to 16-year-olds having already experienced the death of a close relative or friend. Learning about the commons feelings associated with loss before it happens will benefit all young people's mental health.
News round-up: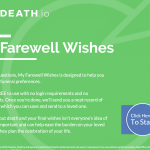 Farewell Wishes
Do you want a send-off that reflects you? Do you hate the thought of your relatives mumbling along to hymns you hate wearing all black? If the answer is yes, you need to complete Farewell Wishes. In just 10 questions and about the same time it takes to boil a kettle, you can think about death and get it in order.

Articles on DEATH.io
Modern death rituals
You don't go to church, but you religiously eat the same cereal every morning. You don't believe in a higher being, but you find yourself crossing your fingers when you need some good luck on your side. So when it comes to death, does a little ritual help? Here we look at some of the rituals surrounding death, and our own alternative versions – minus the years of devotion.

Where has DEATH been?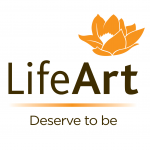 Not content with stalking the streets of Bristol asking the unsuspecting public questions about death and funerals, we made a trip to Gloucester to visit a coffin factory. What might sound like a morbid expedition in many ways (Gloucester's not on everyone's to-do list), we're pleased to report that LifeArt's coffin factory isn't anything you might expect.
LifeArt are the world's leading green coffin manufacturer and their coffin factory is clean, modern and efficient. It's not only the huge orange sofa that greets you (it's pretty comfy), but the general lack of dust, clamour and general eeriness.
What we've been watching
We went to see User Not Found, an immersive experience looking at what we leave behind online when we die, produced by Dante or Die. Performed at The Edge Cafe in Bath, the audience were asked to follow the personal and moral maze through smartphones, headphones and the inner monologue of Terry. We followed the character through the strange and humourous grieving process.
It was a fascinating look at one of the biggest questions when it comes to death, modern society and our personal legacy: if you could delete all of your online presence, would you? Catch it if you can.
Obscure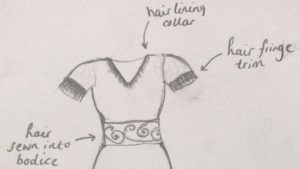 We're no longer really shocked by fashion. £600 flip flops? Seen them. Trousers made from chipboard? I can see the appeal. But a dress made from your dead mum's hair? That's a bit too much, even for us.
A woman from Bristol put out an advert looking for designer to fulfil her wish to use the hair she collected while her mother was still alive to decorate a swish dress.

On the one hand, it isn't a request you see everyday or when you're surfing the Gumtree WANTED message boards. But dead people's hair were historically used as mourning items, such as lockets and other mementos such as wreaths. Are mourning hair garments making a comeback?
Want your hair to be used to create a high-end dinner suit? Put it down in your Farewell Wishes here.
Check out the Death Blog next week for more of our favourite death-related bits and pieces. In the meantime, take a look at DEATH.io to start planning ahead.