With the Edinburgh Fringe already in full swing, we asked Death on the Fringe creator Robert Peacock (who is also the Development Manager for the organisation Good Life, Good Death, Good Grief) why he started the series, what he looks for in an Edinburgh show and why death's a fitting subject for the Fringe.
We've got many more interviews between DEATH and industry professionals, organisations, artists, and anyone with a perspective on death. Make sure you keep up to date with everything going on at DEATH.io.
Where did the idea for Death on the Fringe come from? I think it's safe to say the Fringe is best known for the quality of its comedy rather than its morbidity.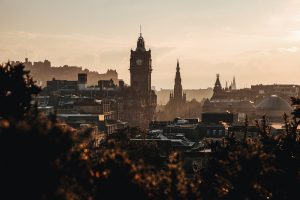 Well, we knew we had this huge arts festival, the biggest in the world, on our doorstep, with hundreds of thousands of visitors. And we knew we wanted to engage those people with our work at Good Life Good Death Good Grief. It's the aim of what we do – to open up conversations about death, dying and bereavement, so that people are better informed, prepared and supported when it happens.
The question then was, how can we use this huge event to get people having those conversations?
And when you look through the Fringe brochure, among the 3000 plus shows of all genres, you see lots about death and dying. It's one of the big topics in all forms of art, even comedy. Love and death – they're the big two. The idea then was fairly simple – bring those shows together in our own mini-programme, add in our own lecture series, and promote it as an enjoyable way to engage with a difficult subject.
What kinds of shows do you look for when putting together Death on the Fringe?
We're not too prescriptive about what kind of shows can be included. As long as death, dying or bereavement is the main theme of the performance, the show is eligible. We always add the disclaimer that we're not endorsing any particular viewpoint, so if people have challenging or controversial things to say, that's OK.
There are a few topics we don't touch though. War is one. It's a topic all its own, and death is only part of it. And we don't include shows about a particular person's death. There's often biographical shows about famous deaths, so they're not included. More or less anything else we would consider.
This year's programme is made up of drama, author discussions and stand-up comedy. How important is it to show that death, dying and grief can be presented in so many ways?
People engage in different ways with a topic like this. Some people want facts, some people want to feel an emotional response. So if we can present people with a range of different shows, that's all to the good.
Over the years, we've been surprised at the many ways people have found to approach the subject. Obviously, we've featured plenty of stand-up comics, which is what most people associate with the Fringe, but we always have lots of theatre in the programme, as well as spoken word, musicals and even dance. My favourite Death on the Fringe show was in the first year, 2014, called Death, Duck and the Tulip. It was a children's puppetry show but I cried absolute buckets.
What shows featured in this year's Death on the Fringe are you most excited about?
Ha! I'm not at liberty to pick favourites, and we've got nearly 30 events in this year's programme so it's a tough choice anyway.
I do know that a lot of personal emotion and heartache has gone into certain shows. Solo performer Pip Utton is doing a piece about Alzheimer's, based on the experience he went through with his own mother. We also have two performers – Paige Barr and Isla MacLean – doing comedy shows about widowhood. Those heart-on-sleeve performances are always very affecting.
Australian performer Amanda Santuccione is doing a storytelling/musical show about her experience with grief, and Paul Mayhew-Archer, co-writer of Vicar of Dibley, is making his debut with a show about his own Parkinson's diagnosis. So, yes, there's lots of personal material.
But really, I'm looking forward to them all. There's always something astonishing from out of the blue.
While the idea that laughter is the best medicine is a cliché, do you find that audiences take something away from the shows aside from just a good night out?
Oh definitely. I know I do personally, but I've seen it for myself in others too. I host a showcase night featuring as many of the performers as I can squeeze in, and afterwards, you always see guests thanking the performers for sharing their stories or asking how they can book tickets to see the full show. That connection is real, and a good show always stays with you, for days, weeks or occasionally a lifetime.
It could just be a line or an image, but we hope that people take something away from each show they see, something that they either pause to reflect upon or share with others. That way, in small steps, we might break down some of the isolation, confusion and fear that surrounds death and loss.   
What's your favourite death-related joke?
Oh no, I don't tell the jokes, I just do the organising! But if I'm forced, the classic comes from the master Bob Monkhouse:
"I want to die like my father, peacefully in his sleep, not screaming and terrified, like his passengers."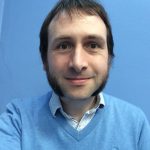 Robert Peacock is Development Manager for Good Life, Good Death, Good Grief, an alliance of organisations and individuals working together to raise public awareness of ways to deal with death, dying and bereavement. He created and directs Death on the Fringe, a programme of shows and lectures which since 2014 has been bringing debate about the subject to the world's biggest arts festival. He has worked on the To Absent Friends festival of storytelling and remembrance since 2015 and is also editor of arts website The Wee Review.